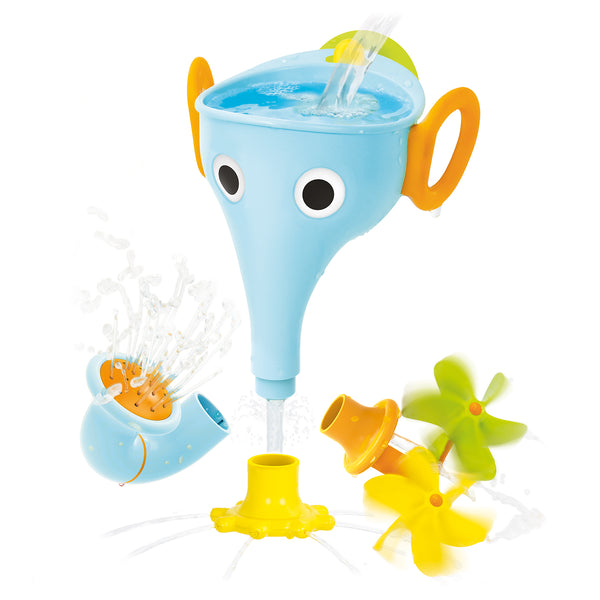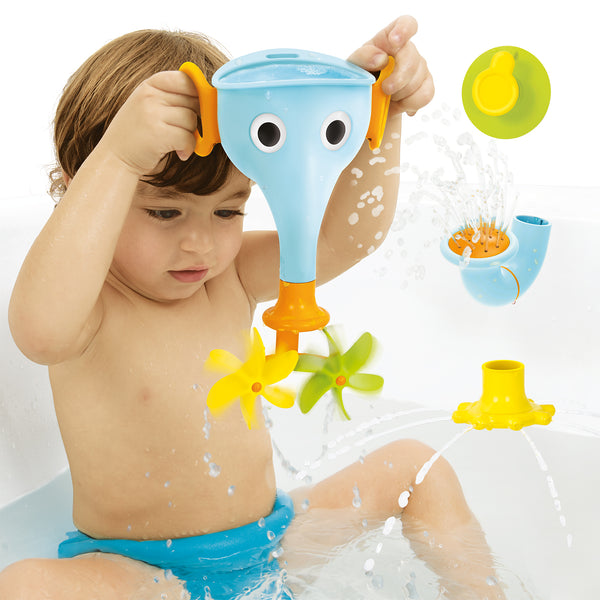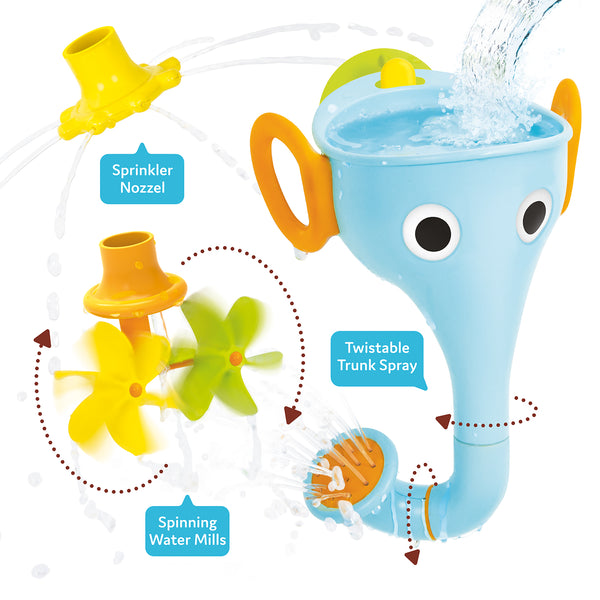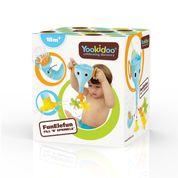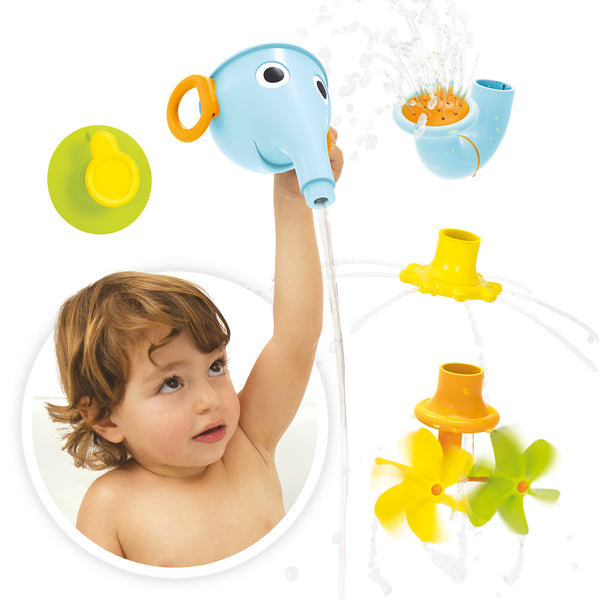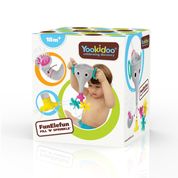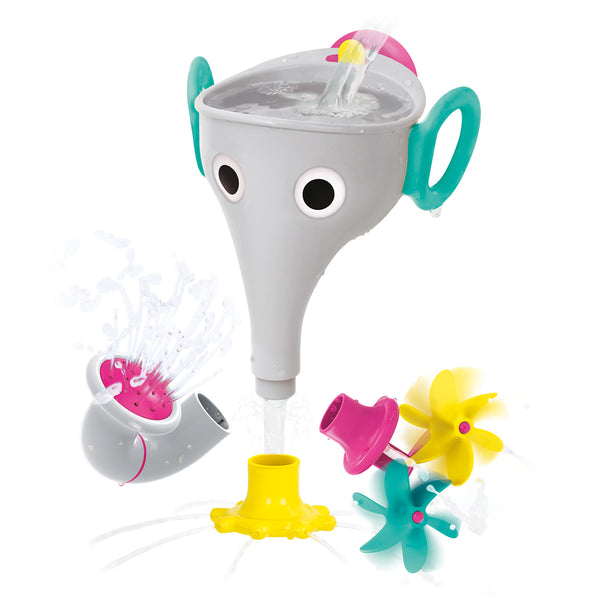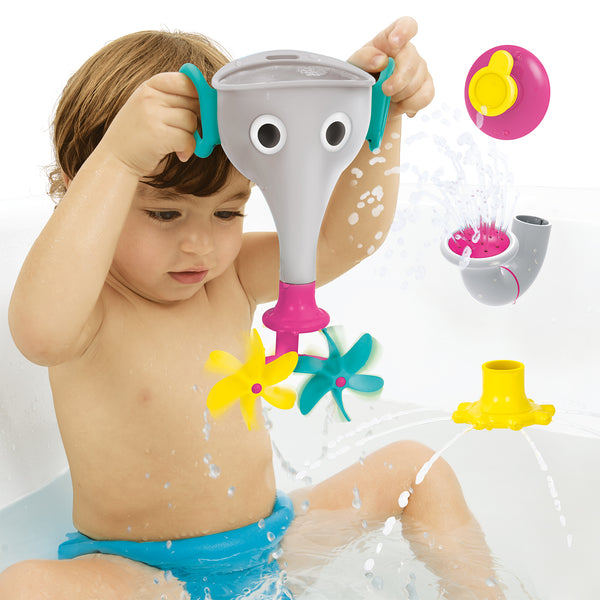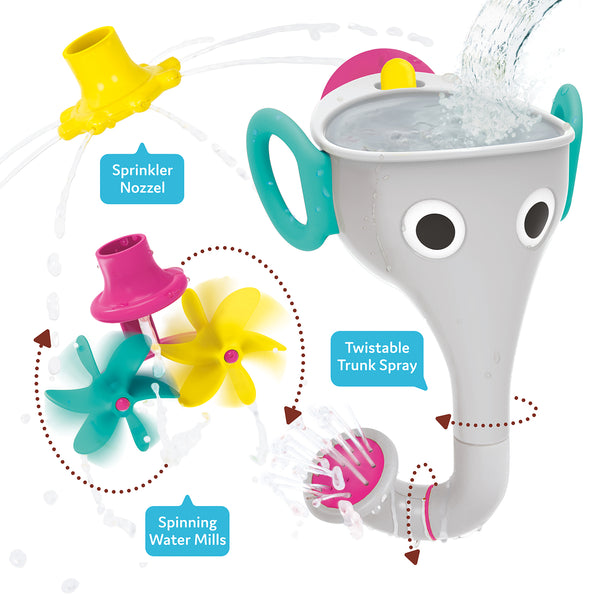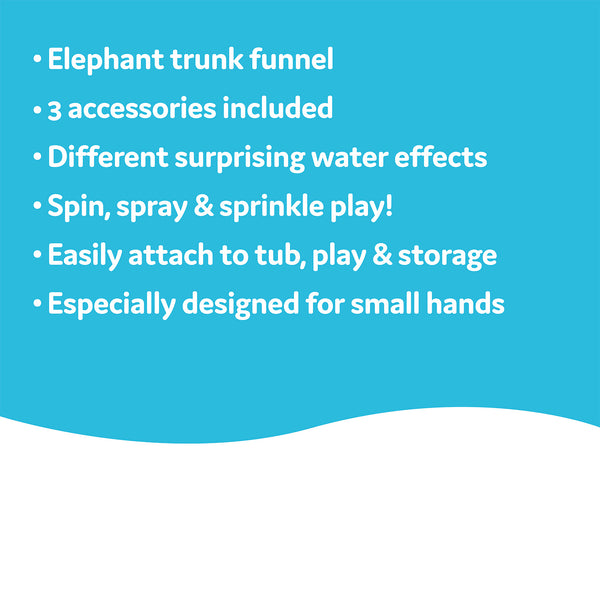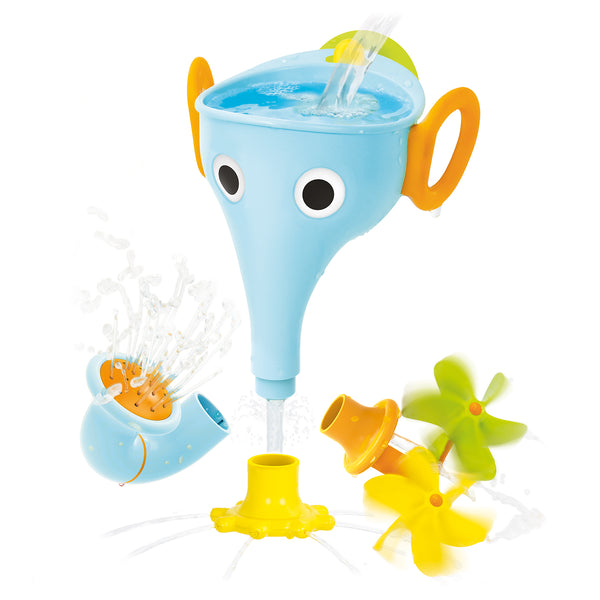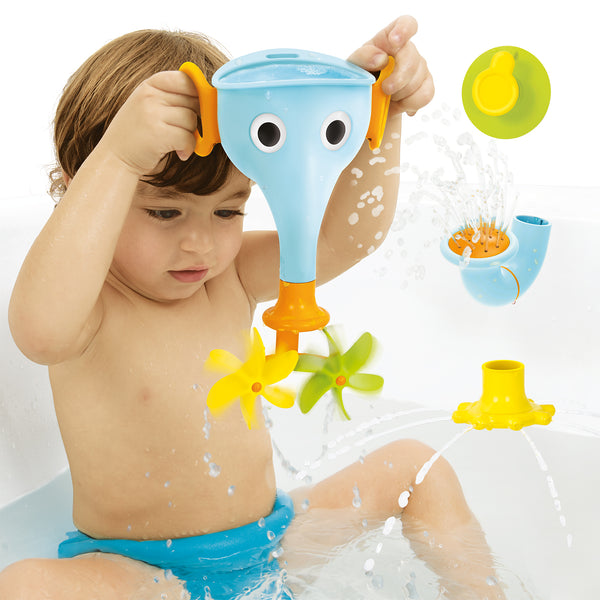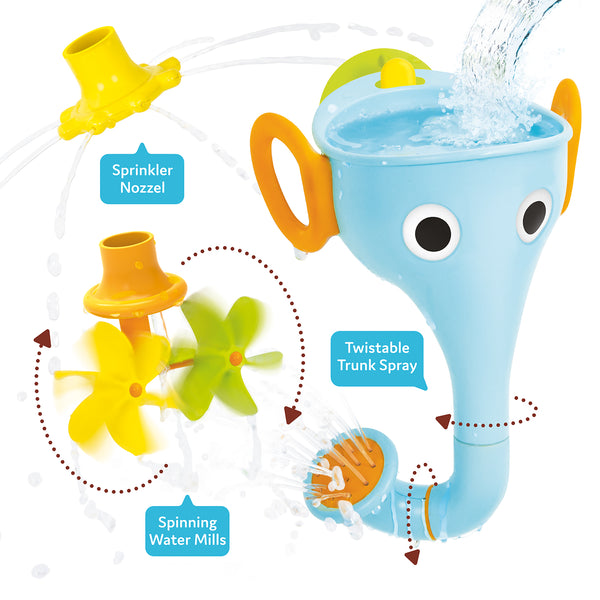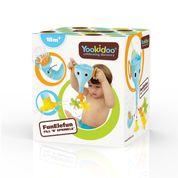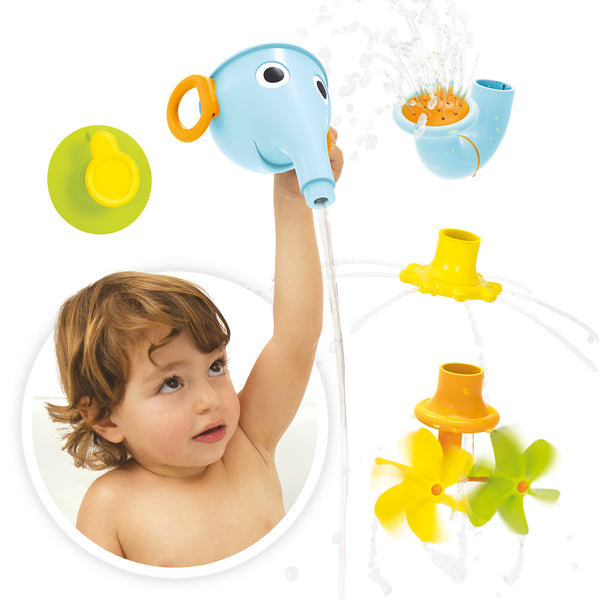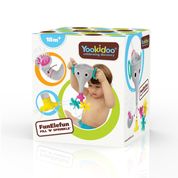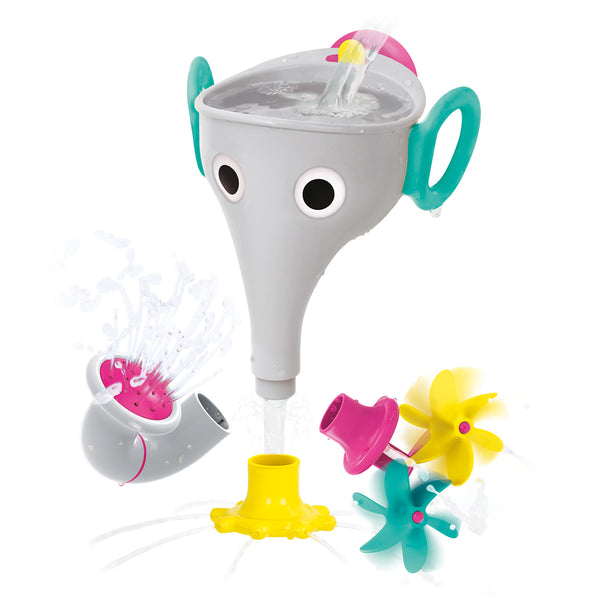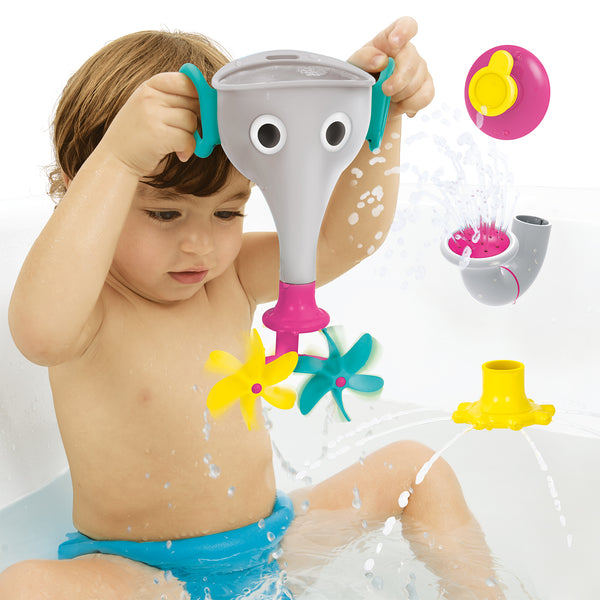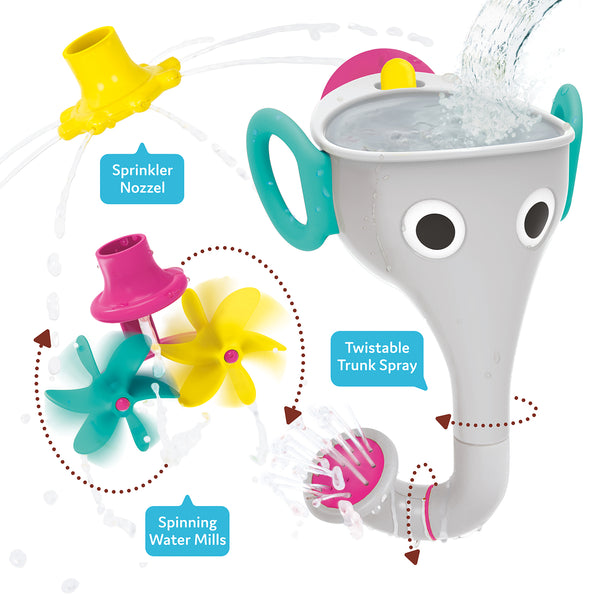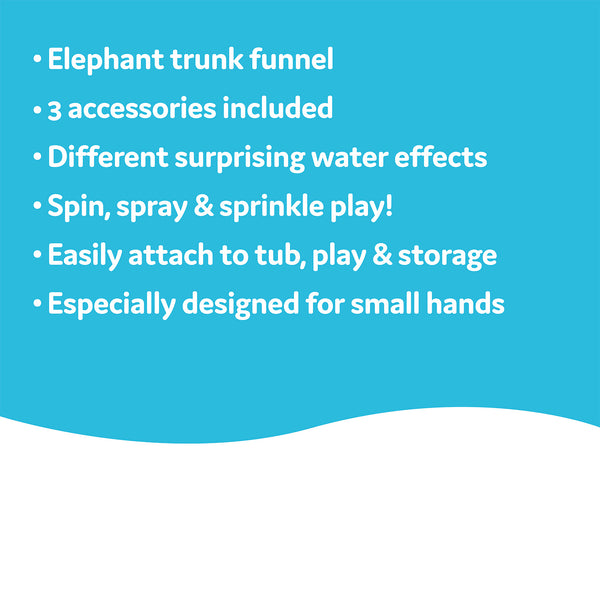 Video
Bath-time will never be the same once your child has this fillable elephant funnel trunk and its accessories that spin, spray, sprinkle, and endlessly entertain. The great big elephant in the room will be… Yookidoo's FunElefun.
Attach one of the three interchangeable trunk accessories – the spinning water mills, a twistable trunk that sprays, or the sprinkler nozzle.

Especially made for your child's small hands and proportions, it is easy for them to grasp independently by the ears, fill with water, maneuver, and enjoy the different water effects.

Fill the funnel with water, and delight in the different kinds of streams.

Stop and start the spinning water mills with a finger for the fun of experimenting.

Connect the twistable trunk sprayer for a real elephant shower!

Encourage your child to swap out accessories themselves and explore independently.

Connect the large suction cup that sticks to the side of the tub for easy play or storage.

When bath time is done, all interchangeable accessories can be placed inside the FunElefun for easy storage.
Good to Know
Safety first
The FunElefun can be filled with water from the tub, so water temperature remains constant.
Take Along
The FunElefun can be brought along when you leave the house for fun water play at the pool or at the beach.
STEM-promotion
This toy promotes STEM learning important to contemporary child development – including sequential thought.
...my 18-month grandson loves it at his bath times. He is already trying to construct it with the various attachments and get very giddy with the shower fitting...This item generates a high degree of learning and practical skills. Highly recommended." | RonTheDon , England
FAQ
Does the FunElefun require batteries?

FunElefun does not require batteries and is powered solely by the power of water.

Is this product BPA free?

Yes, this product is BPA free.

What age is this product for?

This product is recommended for children ages 18+ months. No matter what their age, you should never leave a child unattended in the bathroom or bathtub.
Can the FunElefun be used outdoors?

Yes. This toy can be used with any clean water, such as in bathtubs, swimming pools, and kiddie pools.

Where do I store the interchangeable accessories?

All the trunk accessories can be easily stored inside the trunk funnel which comes with a suction cup hanger.

What should I do if I notice mold developing?

It is recommended to properly rinse, drain, and dry out the product after every use. Unless you do that, Yookidoo® bath toys will need a good cleaning every two weeks or so in order to remain mold-free. When a thorough cleaning is required, fill up a bucket with water and add in some vinegar. Let the toy soak in the vinegar water for around 20 minutes. Rinse it off and dry using a paper or cloth towel.