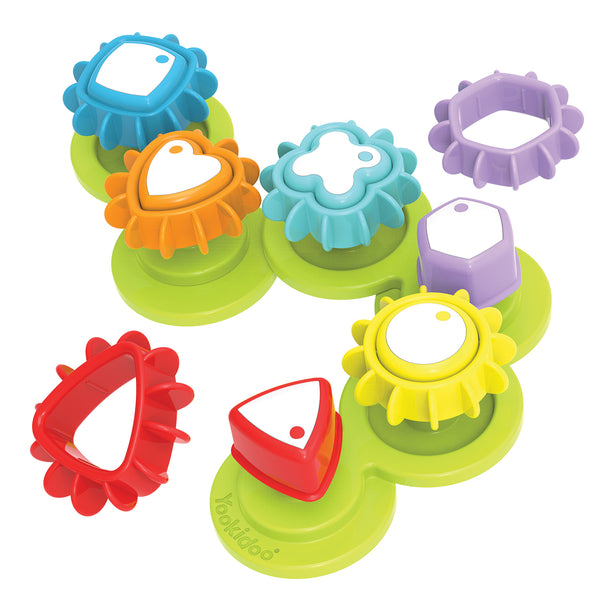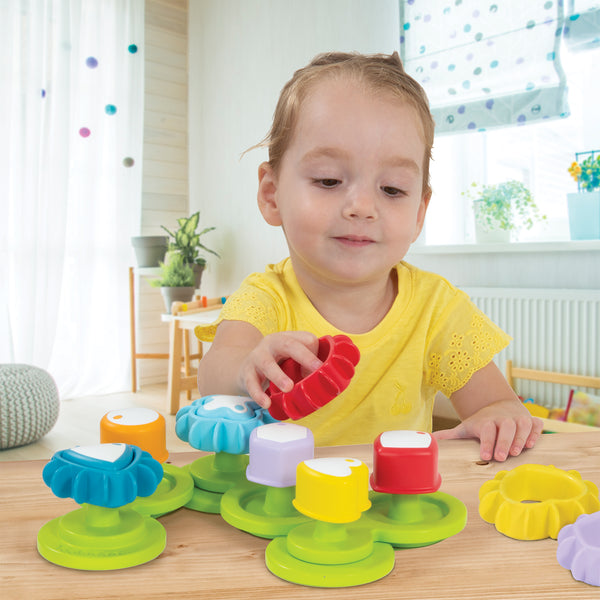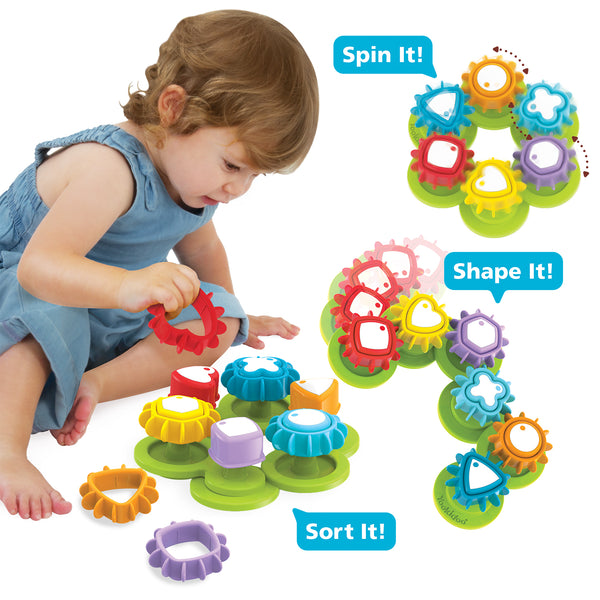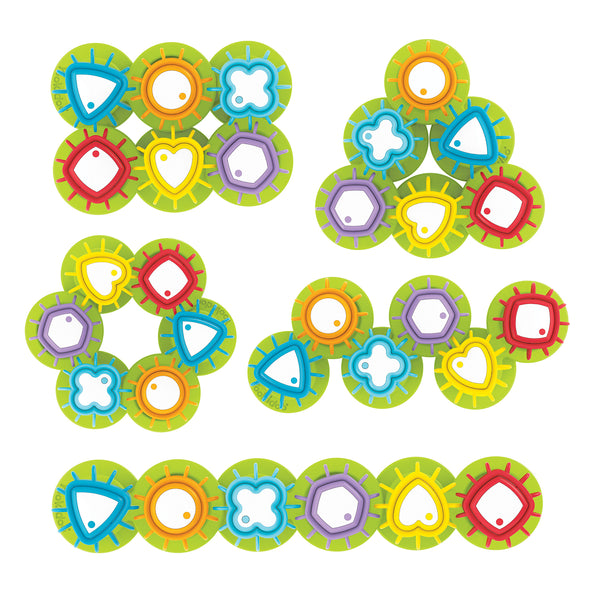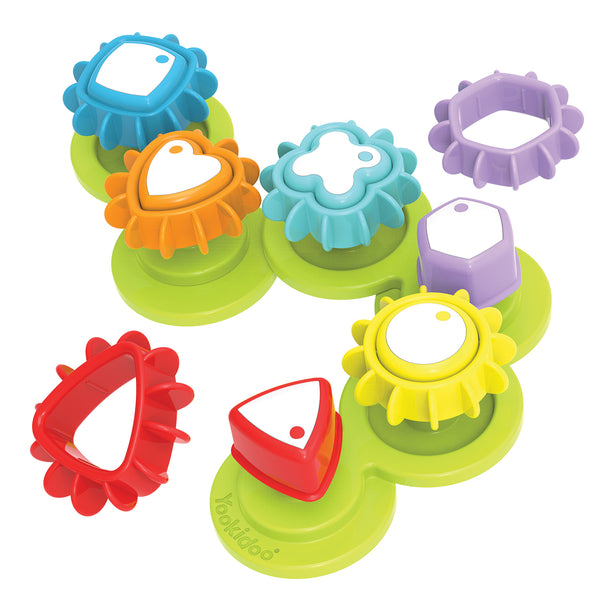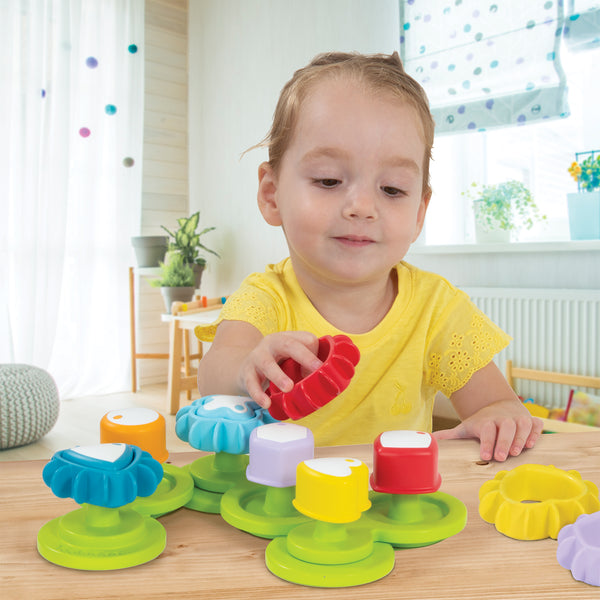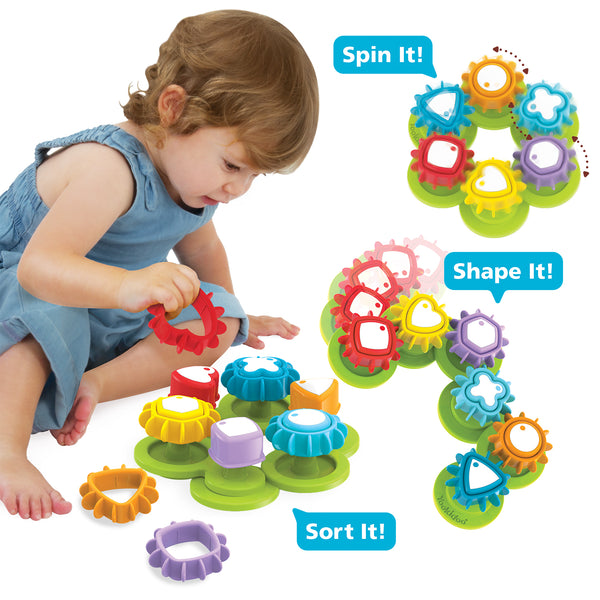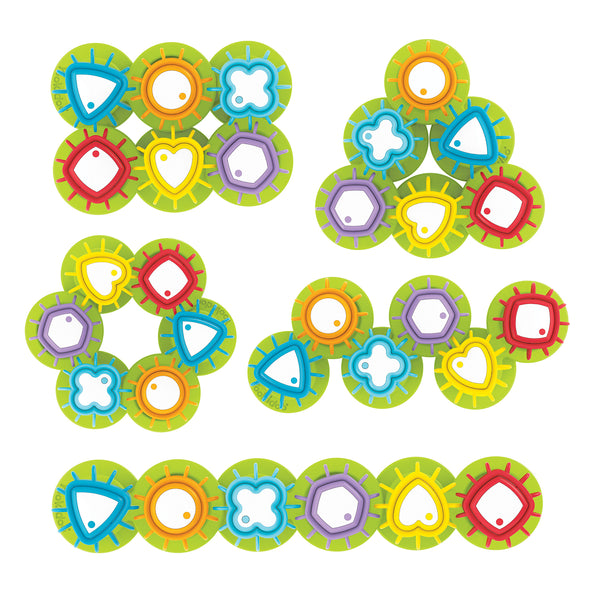 Video
Your child's early-STEM imagination will not stop as they configure spinning "machines" in a variety of layouts from these innovative gears and match their colors and shapes. Delightful "machine learning" in miniature as your child spins this matching-shapes toy and generates multiple gear reactions!
Arrange the six geometric, colored shapes with gears on the flexible base to configure a variety of chain-reaction layouts: a row, a snake, a triangle, a square, or a circle.

Show your toddler how to maneuver the large, easy-to-grasp shapes, and then spin the gears – supporting their fine-motor development.

Each gear can be fit only with the matching shape, strengthening your child's understanding of different shapes and sorting skills.

The pieces are especially designed for little hands to grasp and easily fit on the base.

Regardless of the base layout, the gears will always spin, much to your toddler's delight, and enabling frustration-free playing and learning.

Encourage color and shape recognition by identifying them as you play together.
Good to Know
Take-Along
This toy can be spread out during use but may be arranged in compact form that is convenient for transporting and playing on the go.
Versatility
This toy will grow along with your baby, serving multiple purposes through multiple stages.
STEM-promotion
This toy promotes STEM learning important to contemporary child development – including counting, attributing, and basic concepts of physics.
"This was a great purchase! I bought for my autistic students and I am so had I did! They love it so much. Awesome quality, easy to clean and very nice size for little hands!! Super recommend!" | Luana Luzia
FAQ
Does the Shape 'N' Spin Gear Sorter require batteries?

No, this product does not require batteries.

Where can I purchase Yookidoo products?

Yookidoo products can be found at large baby and toy chains, as well as at independent children's retailers. Search the Where To Buy section on the Yookidoo site to locate the retailer nearest you.

What kind of warranty does Yookidoo offer?

Product warranty information can be found here.
Where can I find assembly instructions for my Yookidoo product?

In order to find assembly instructions for your product, go to the individual product page and click on the "Instructions" button on the left side of the page. There you'll find the instructions as a downloadable PDF.

Is this product BPA free?

Yes, this product is BPA free, as well as free of phthalates, lead, and PVC.

What is the date code and where can I find it on the product?

The Yookidoo date code number helps us track the production date of the product. The date code of the Yookidoo Shape 'N' Spin Gear Sorter is at the bottom/back side of one of the base's green circles. It is made up of 5-digits and ends with letters.