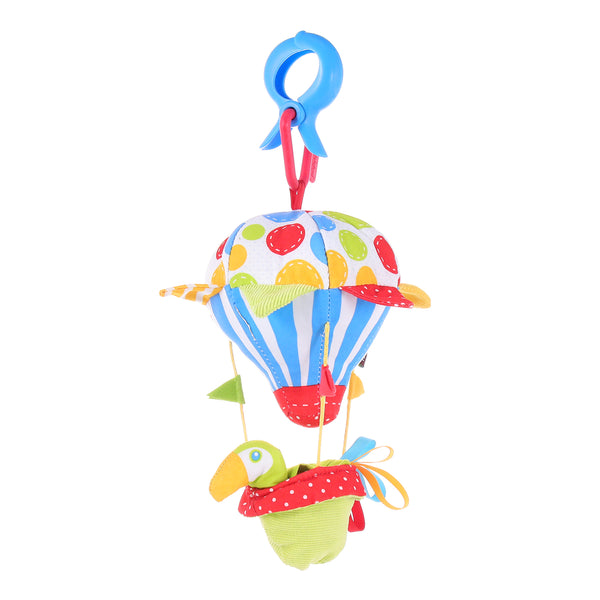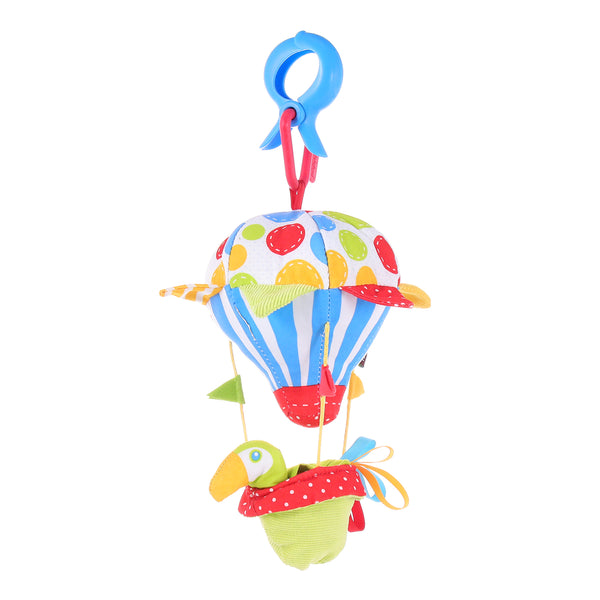 Video
Up, up, and away in this multi-textured magical balloon. This basketful of motion-activated sound and music – plus a chipper parrot as pilot – will float baby over the rainbow, into an exciting new world of sensory experience.
Attach this battery-operated, motion-activated sound and music balloon onto baby's stroller, baby seat carrier, or gym using the included alligator clip.

Tap the soft balloon basket for musical feedback, encouraging baby to reach out and explore it for themselves.

Show your baby the multiple textures, crinkle the flags, and pull at the ribbons, enhancing their sensory experience and stimulation development.
Good to Know
Safety first
All exciting multi-textured toy parts are soft (even the electronic ones hidden in the balloon basket) and the toy is made for safe playing and teething.
Versatility
This toy will grow along with your baby, serving multiple purposes through multiple stages, and providing atmosphere, sensory stimulation, and open-ended play.
Curated Music
The catchy melody has been specially adapted for a baby-friendly version in this toy.
"...It has a really nice clip that you pinch to hang from anything you want...little bird in the basket is super cute and hidden within it is a small ball that you can turn on and off that plays the hokey pokey...It is truly unique...and really functional. I love the primary colors. I think my baby will love it too..." | Julie M. , TACOMA, WA
FAQ
Does the Yookidoo Tap 'N' Play Balloon come with batteries?

Yes. The balloon includes three complimentary LR44 (coin) batteries.

What type of batteries are used in the balloon?

The balloon operates using three LR44 (coin) batteries that are included. WARNNING: don't use rechargeable batteries.

How do I change the batteries of the balloon?

To change the batteries, unscrew the battery compartment cover with a Phillips Head screwdriver and insert 3 x LR44 1.5V (AG13) batteries, ensuring correct polarity. Replace the battery cover and screw tightly into place. Please make sure to use batteries of good quality and known brand. Attention: Please remove batteries when the toy is not in use for long periods.
Can I wash the Yookidoo Tap 'N' Play Balloon?

Yes. However the balloon can only be surface washed. Wipe clean with a damp cloth.

What is the date code and where can I find it on the product?

The Yookidoo date code helps us track the production date of the product. The date code of the Yookidoo Tap 'N' Play Balloon is on the product's sewing label. It is a 5 digit number and ends with letters.

Troubleshoot:
The Yookidoo Tap 'N' Play Balloon is not making a sound. What should I do?

Take the battery box out of the balloon basket. Turn the switch off and then on again.
Tap the battery box against your hand gently.
Change batteries.
If all actions above do not help Contact us.